World Open Innovation Conference 2022 Pre-Conference Visit November 14, 2022
Thank you for registering for the World Open Innovation Conference (WOIC) 2022 pre-conference visit on Monday, November 14, 2022. You can look forward to what I think will be a very exciting program. WOIC 2022 will take place in BrainportEindhoven, a major hotspot for (open) innovation in the Netherlands and even in the world:
"Brainport Eindhoven is a technology region in which companies, governments and educational institutions work together to create a brighter future. Because cooperation is in our nature. Philips knew that well 125 years ago. There is no place in the world where so many new ideas are generated every day as here. Together we make complex machines and innovative products that make the world a better place. It's no coincidence that we're called the smartest region in the world."
Click here to learn more about Brainport Eindhoven. 
World Open Innovation Conference 2022 Pre-Conference Visit November 14, 2022
Brainport Eindhoven, situated in the south of the Netherlands, is one of Europe's most innovative technology regions. Known for its innovative strength and multi-disciplinary way of working.
You will have the opportunity to visit this unique region and visit a number of campuses where innovation takes place. You can buy a ticket for this exciting visit when registering for the conference. Below, you will find more information about Brainport Eindhoven, the campuses you can visit, and the programs for a full day and afternoon only options (for which you can register later). Registered participants will receive more information about these options in the weeks following their registration.
On Monday, November 14, 2022, you will have a chance to experience part of this innovative region from close by. This should surely get you ready with the right mindset for WOIC 2022 in the two following days. As you can see in the attached program, we have created a program that starts with an early lunch and ends with a reception. We will start at 11 am CET at the Philips Museum, located at Emmasingel 31 in the center of Eindhoven. You will be offered lunch and a tour at the museum, where you will hear and see how the region developed into what it has become. We will then go by bus to the Experience Centers of VDL and ASML, respectively, which are two of the major companies in the region. We will end the visit with a reception, and we will return to the Eindhoven city center by bus again around 7 pm. After this, you are free to explore the city, noting that you may consider visiting the (free) light art installations of GLOW, which start at 6:30 pm that evening.
We look forward to seeing you at the Philips Museum, where we will start the visit. In case anything is unclear or you have any other questions about the visit, please contact our secretariat. As the pre-conference visit is fully booked, and for logistical reasons, we would appreciate it if you could let us know if you won't be able to make it.
ABOUT BRAINPORT EINDHOVEN
Key technologies and markets
In the Brainport region the smartest minds and most skilled workers collaborate on developing innovations that make our future better, safer, and cleaner. Brainport's unique high-tech competences and strong cooperation between industry, educational and knowledge institutes, and governments have turned the region into what it is today. A prosperous region where breakthrough technologies are developed that shape tomorrow's society. Collaboration continues to be the main recipe for the future. Together, companies and organizations ambitiously work on enriching and strengthening the region.
Open innovation and co-creation on and between campuses
In Brainport Eindhoven, technologies and networks are clustered on five campuses in order to create economic value and facilitate business development. Each of these campuses houses a mix of companies, talents, and educational and knowledge institutes, each with a specific expertise. They collaborate on inventing, developing, and producing tomorrow's technologies. At the campuses, knowledge, experience, world-class research facilities, and technical infrastructure are shared in an open innovation setting.
Collaboration and crosspollination on and between campuses
All campuses are located in a relatively compact geographical area, and together they form a value chain that covers all technology readiness levels. An excelling physical infrastructure and efficient public transport between the campuses and main transportation hubs enable cross-pollination, collaboration, and co-creation to happen in a spontaneous way. Sharing knowledge leads to multiplying knowledge.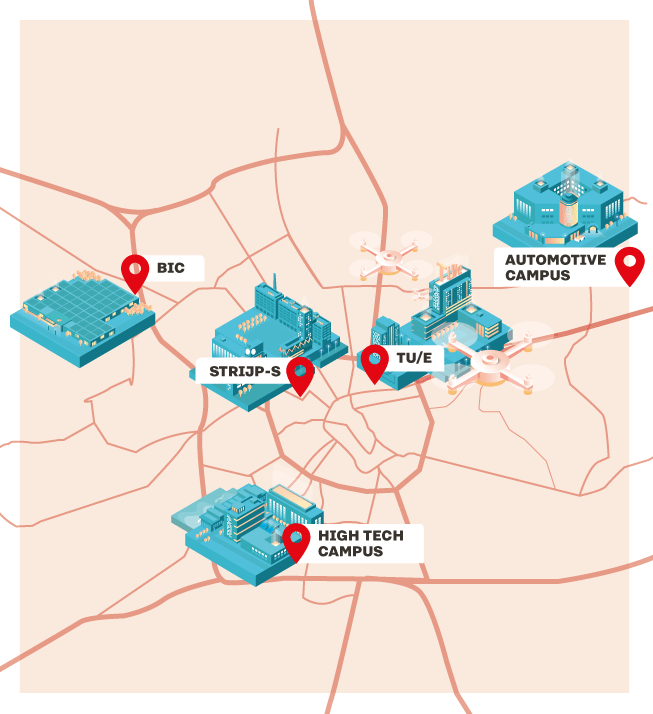 During the pre-conference day you will have the opportunity to experience the open innovation ecosystem of Brainport Eindhoven up close.
INFORMATION ABOUT THE CAMPUSES
Program Details (Tentative)
Program Details (Tentative)
| Time | Activity |
| --- | --- |
| 11:00 – 13:30 | Lunch & Tour at Philips Museum |
| | Keynote speaker: TBC |
| 13.30 | Bus transfer to VDL |
| 14:00 – 16:00 | Visit to VDL Experience Center |
| | Host: Michiel Pieters |
| | Keynote speaker: TBC |
| 16:00 | Bus transfer |
| 16:30 – 18:00 | Visit to ASML Experience Center |
| | Host: Arco Krijgsman |
| | Keynote speaker: TBC |
| 18:00 – 19:00 | Reception |
| 19:00 | Bus transfer to Eindhoven city center |
The program is subject to change.