World Open Innovation Conference 2021 Pre-Conference Day December 8, 2021
Brainport Eindhoven, situated in the south of the Netherlands, is one of Europe's most innovative technology regions. Known for its innovative strength and multi-disciplinary way of working.
You will have the opportunity to visit this unique region and visit a number of campuses where innovation takes place. You can buy a ticket for this exciting visit when registering for the conference. Below, you will find more information about Brainport Eindhoven, the campuses you can visit, and the programs for a full day and afternoon only options (for which you can register later). Registered participants will receive more information about these options in the weeks following their registration.
ABOUT BRAINPORT EINDHOVEN
Key technologies and markets
In the Brainport region the smartest minds and most skilled workers collaborate on developing innovations that make our future better, safer, and cleaner. Brainport's unique high-tech competences and strong cooperation between industry, educational and knowledge institutes, and governments have turned the region into what it is today. A prosperous region where breakthrough technologies are developed that shape tomorrow's society. Collaboration continues to be the main recipe for the future. Together, companies and organizations ambitiously work on enriching and strengthening the region.
Open innovation and co-creation on and between campuses
In Brainport Eindhoven, technologies and networks are clustered on five campuses in order to create economic value and facilitate business development. Each of these campuses houses a mix of companies, talents, and educational and knowledge institutes, each with a specific expertise. They collaborate on inventing, developing, and producing tomorrow's technologies. At the campuses, knowledge, experience, world-class research facilities, and technical infrastructure are shared in an open innovation setting.
Collaboration and crosspollination on and between campuses
All campuses are located in a relatively compact geographical area, and together they form a value chain that covers all technology readiness levels. An excelling physical infrastructure and efficient public transport between the campuses and main transportation hubs enable cross-pollination, collaboration, and co-creation to happen in a spontaneous way. Sharing knowledge leads to multiplying knowledge.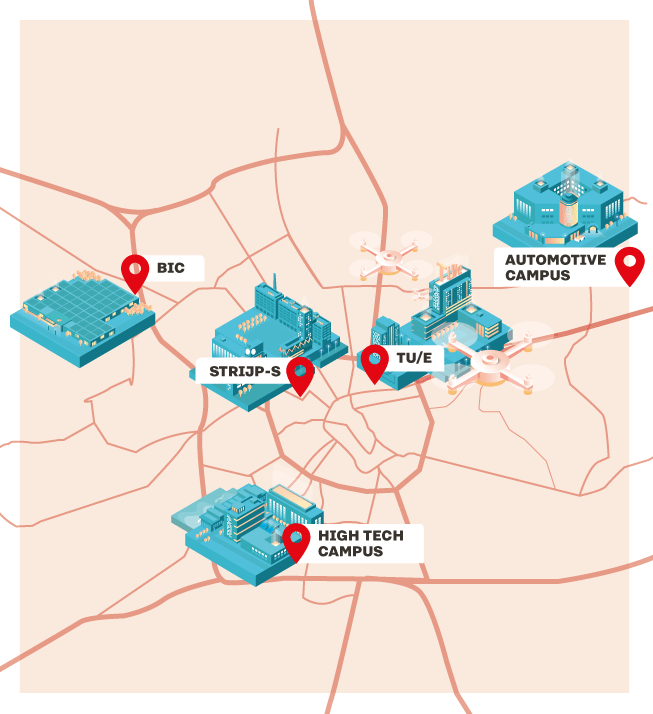 During the pre-conference day you will have the opportunity to experience the open innovation ecosystem of Brainport Eindhoven up close.
INFORMATION ABOUT THE CAMPUSES
FULL DAY VISIT
AFTERNOON VISIT
FULL DAY VISIT
Day program – 10.00hrs – 20.00hrs
There is a lot to see in Brainport Eindhoven. During the day program we make sure that you don't miss out of anything.
10.00hrs – 11.30hrs
The first stop will be at the Strijp District, situated on the former Philips site right at the center of Eindhoven. It is a unique and innovative district, which offers a combination of working, living, learning and leisure opportunities. It is a perfect place for creative and entrepreneurial people to cooperate and meet at start-ups, scale ups and in their free time.
The President of the University of Technology of Eindhoven Mr. Robert-Jan Smits will give a warm word of welcome and an introduction of Brainport Eindhoven.
We will then continue the program with a short guided tour at the Strijp district.
12.00hrs – 17.30hrs
The best way to experience open innovation in Brainport Eindhoven is by visiting the Campuses. As part of this day, you will be visiting 2 Campuses this afternoon.
18.00hrs – 20.00hrs
The program ends with an informal fine dining at a Brainport Eindhoven hotspot.
An opportunity to enjoy networking and building relationships with like-minded while enjoying dinner.
Included in the program
Transfers
Food & beverage: coffee/tea, lunch package including drinks, bottle of water, 3 course dinner excluding beverage
English speaking guide
Guided tour at two of the campuses

The program is subject to change and availability.
AFTERNOON VISIT